Zing Now Works on the Web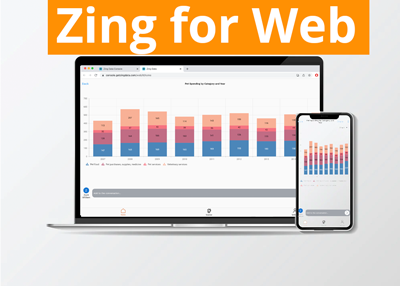 Zing already has industry-leading support for querying and visualizing data on iOS and Android. But sometimes you are at your computer or don't want to download an app. For those times, web support can come in handy. That's why we built Zing for Web which is available to all Zing users starting today!
You can find Zing for the Web at:
https://console.getzingdata.com/web/
Or you can simply log into your Zing account on the web and then from the dashboard tap 'Zing App'

From there you can use the same interface we is available on the mobile app to:
Formulate questions easily by tapping, including COUNT, SUM, GROUP BY, WHERE, CONTAINS and BETWEEN
Search for tables, questions, and fields to quickly find the data or analysis you're looking for
Visualize results using:

Bar chart
Horizontal bar chart
Area chart
Donut chart
Sortable data table

Have conversations with colleagues with shared questions, @mentions which notify them when mentioned, and built-in chat threads
Invite colleagues or even people outside your organization to view the data (if you've enabled sharing outside your domain in settings)
Easy cloning and saving questions
A personalized activity feed of questions you've created, mentions from colleagues, and comments you've made on questions
Zing for Web is still in beta, so we're still fine-tuning a few things and would love your feedback - just contact us via the support widget.
Zing for Web supports all the data sources the mobile app does - including Snowflake, Google BigQuery, PostgreSQL, and mySQL.
Don't have an account yet? Sign up for Zing for free here.