Be prepared for every customer conversation
Whether you're in a taxi to a client meeting, finishing final prep ahead of a key presentation, or trying to a quick answer for a prospect, Zing puts all your company's data at your fingertips.
No BI bottlenecks
As a sales professional, you want to be well prepared with the right information that's going to resonate with a customer or prospect. But getting business intelligence resources to help pull that data, waiting for the analysis to be run, and providing feedback to make it client-ready can make it hard to use data – even when it'd help land deals and upsells.
With Zing, you can see the questions your colleagues have asked and simply modify them to a particular client or industry so you don't have to start from scratch.
Look at if a customer is using a new feature your team launched, if they are over their quota and due for re-negotiating, or if they are a churn risk in less than ten seconds from your phone or computer.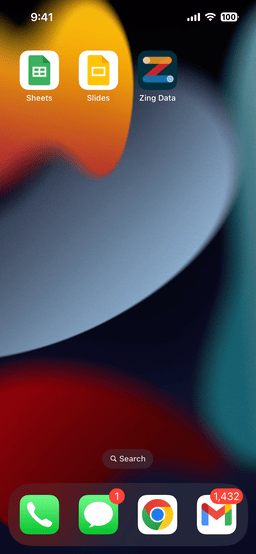 Slick presentations in a few taps
Create data-driven presentations and emails from anywhere.
Simple 'save to photo gallery' functionality lets you drop graphs into Google Slides, Google Docs, Microsoft Word, Slack, and more in just a tap.
Pinch to zoom into graphs to show exactly what you want, and toggle on and off various series in just a tap.
Want all the data behind a graph to put into a Google Sheet, Excel file, or send to a client? Simply tap 'export as CSV' to save down the data behind a graph.
Always on Alert
Zing's alerts notify you via push notification or email when your clients take key actions you define – from using a new feature to hitting a usage limit that you should reach out about.
You can create these alerts just by tapping on the graph. Unlike other BI software that checks once a day or once an hour, Zing Data can check every minute so you're always the first to know.