Natural language and visual querying
Query your way with
Natural Language
Dictate or type your data questions using the same AI intelligence layer behind OpenAI's GPT3 to simply ask natural language questions.
Works on iOS, Android, and the web -

Zing's natural language querying works on any device and with any of Zing's supported databases - including Postgres, mySQL, Snowflake, Presto, Trino, BigQuery, Google.

Trusted -

Manufacturers, retailers, and logistics companies to bring data to the field, natural language questions empower anybody at your company to get graphs in seconds.

You can always see the query that was run to be confident that you were understood correctly.

Not sure what to ask?

Simply search through questions your colleagues have already asked to see what is possible and learn what your colleagues are asking about.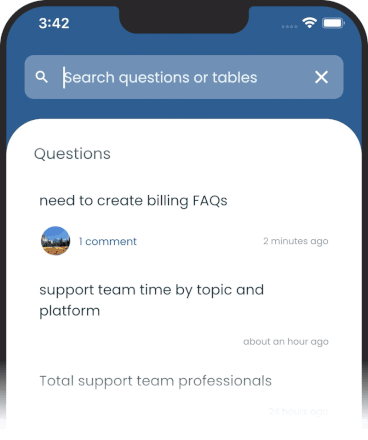 Query your way with
Visual Question Builder
With a flexible visual question builder, you can filter, aggregate, summarize, and visualize data in seconds from your phone or the web
Handles dates and timestamp fields -

Zing automatically handles dates and timestamp fields to simplify querying - letting you easily aggregate and format date / time fieldsGoogle.

Choose specific dates, absolute date ranges, relative dates (e.g. 'most recent 3 days' or 'last 12 hours').

Multiple filters

Use multiple filters or aggregations to get exactly the results you want and specify even complex logic.

Involved Calculations -

Create metrics and calculated fields for more involved calculations.
Query your way with
SQL Typeahead
A full SQL editor automatically pre-fills table names and database names to simplify writing more involved queries
Full-featured

typeahead auto-fills field names, functions, and statements.

Custom SQL Sight -

With Zing's custom SQL Sight, you can specify how your SQL will be visualized in the SQL itself - for instance specifying y1 to indicate a field should be plotted on the y-axis or x1 to indicate a field should be plotted on the x axis. Even specify dimensional splits in-line with your SQL code.
Better visualization with
Live Dashboards
Arrange any set of questions into a _live dashboard_ simply by dragging questions on a dashboard canvas
Smart reflow

maintains overall dashboard ordering while flexibly scaling to web and mobile form factors.

Create dashboards on iOS, Android, and the Web

and they'll work great across all other platforms. No need for 'web specific views' or 'mobile specific views'.

All chart elements are live

meaning you get up-to-date results that pull the latest data from the source -- no day old extracts here.

Everything is interactive on a dashboard

simply tap a question card to deep dive on a specific question, see the conversation around it, or use it as a starting point for a new question.
Download Zing For Free
Available on iOS, Android, and the web
Learn how Zing can help you and your organization collaborate with data
Schedule Demo