Granular question and dashboard sharing is now live on Zing Data iOS, Android, and Web.
This provides granular control to set access for users in your organization at data source, question, or dashboard level.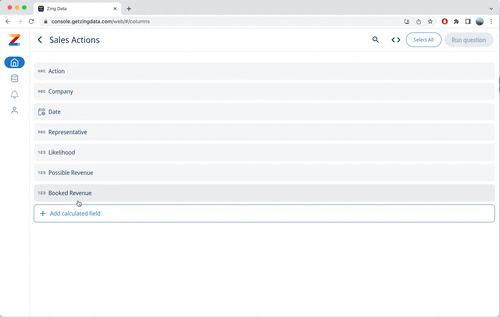 Roles and Permissions
With these new access controls, you can:
Share a question or dashboard with various controls:

Only me

Specific people at your company

Your whole organization (e.g. everybody at MyCompany)

Specific people outside your company (if 'outside domains' are allowed in settings)

For each question or dashboard, you can set viewer, editor, or admin rights:

Viewers can see the question or dashboard, create comments, create alerts, and save the image of a graph. They can't clone the question, export the data, or query the underlying data source.
Editors can do everything that viewers can, and can also edit questions, create copies of questions, change visualizations, save data as a CSV, and apply filters.
Admins can do everything Editors can, and can also delete a question or allow a publicly shareable link (if the admin settings for the organization allow it)

Set controls on who can query underlying 'raw' data sources, versus those who can simply access already-created questions or dashboards.
This granular role based access control in Zing makes it possible to define more fine control over which users can access each question, dashboard, or datasource.
How to set permissions
You can share questions and define detailed access controls from the Zing Web app, or iOS and Android mobile apps.
Set permissions by:
Asking a new question or opening an existing saved question

If a new question hasn't been saved yet, save it.

Tap the share icon

Add the specific users and access level and hit 'send', and/or set the organization-level controls.
We're excited to see how team use this to make sure the right people have the right permissions, and use these controls to include more people in making decisions with data.