We've made Zing even easier to use with automatic pagination (so you don't have to limit the size of results in queries), and with pull-to-refresh so you can see the latest data for fast-changing datasets like operational data, financial data, and time series.
These additions, plus our recent launch of SwiftQuery AI (which enables asking questions in natural language and drag-and-drop control) make Zing more capable and convenient.
Have capabilities you'd love to see us add? Just ping our team via Intercom chat and we'll look into it!
When you ask a question which returns lots of data, often not all that data is easily chartable on one screen. With Zing's new automatic pagination, simply swipe to the left to see the previous period hot-load – be it going back in time with time series data, or viewing additional categories that were not visible in the initial chart. This works for unsorted data, or if you'd like you can apply sorts (e.g. sorted by x-axis low to high, or y-axis values).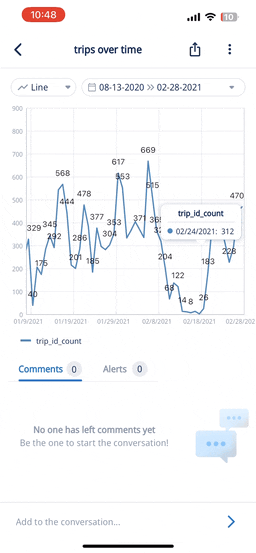 On the web, forward and backward arrows make it easy to adjust the categories or time period shown.
You can also control this from the pagination drop down in the top right of any question.
Pull to Refresh
Zing's new  pull-to-refresh capability is a great way to keep your data up-to-date. A pull to refresh will trigger the query to be re-run, meaning that you're getting the latest data from your warehouse or database. This can be especially useful for data that changes frequently, such as website traffic, stock levels, or financial market data.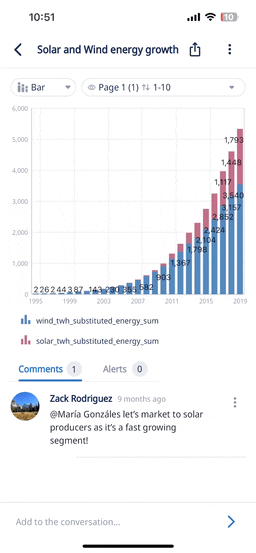 To use the pull to refresh feature, simply swipe down on the screen where your data is displayed ( a chart, dashboard, or table). Zing Data will then automatically check for updates and refresh the data if necessary.
Have more questions? Our team is ready to guide you through the process and answer any questions you have. Feel free to reach out via email or chat.