Dynamic Alerts let you stay on top of important data changes whereever you are. You can set them up from iOS, Android, or the Web.
Dynamic alerts notify you by push or email (or both) when data changes that satisfies the criteria you set. Alerts can be set up to check every minute, providing near real-time notifications, or as infrequently as once per month.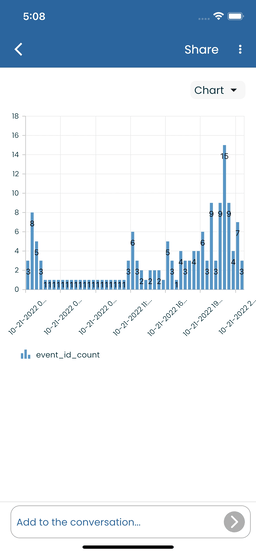 You can specify:
Percentage changes (e.g. let me know when visitors to my website change more than 50% vs the previous day)
Point changes (e.g. let me know when sales drops by more than $500 versus the previous day)
Specific thresholds (e.g. let me know when inventory falls below 50 units for a fast-selling product)
Simply tap on a point on a graph, then the bell icon to set up up an alert. You can also tap the three dots in the upper right of the results screen.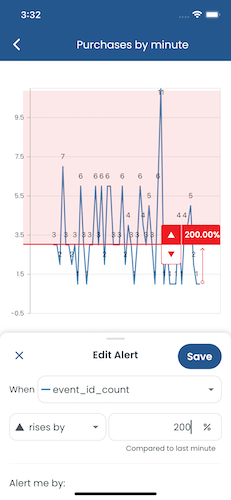 Multiple Dynamic Alerts can be added on a question, and different users can configure alerts specific to them.
You'll see a visual overlay on the graph indicating the threshold values you set alerts on and can simply tap the graph to move thresholds around or you can type in values below.
You can see all alerts you've set up on a question right below the graph.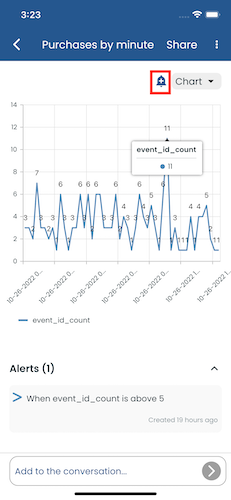 A list of recently triggered alerts is visible in the 'Alerts' tab in the bottom navigation.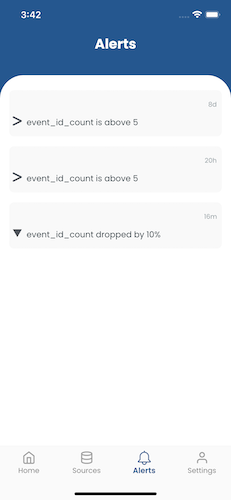 Dynamic alerts work for any question with a timestamp or date on the x-axis. Google BigQuery, Snowflake, Postgres, mySQL, Trino, Presto, Starburst, and Amazon Redshift are all supported. Google Sheets currently is not supported, but let us know if you'd like to see it!
A step by step video is here:
Zing's Dynamic Alerts are available on the Pro plan and above, but for a limited time are also being offered on the free plan.