Trusted by
Leading events producer
Pioneering online video tools
Online communities for fun and work
Touch upon insights in a whole new way
Go from question ➡️ answer in seconds, on iOS, Android, or the web.
A flexible visual query builder lets you get answers in seconds. Analyze data from your phone or browser to work from anywhere. No desktop, SQL, or data scientist needed.
Tap a table, field, or create calculated fields to instantly get results.
Quick Start Guide
Collaboration that brings your team together
Shared questions let you learn from team mates, and search for any questions asked across your organization.
@mentions, push notifications, and shared chat bring the right people into the conversation and empower you to make data actionable.
Easily copy and modify shared questions, export data, and change how charts are displayed to not just view somebody elses's analysis, but instead make it your own.
You can even turn on external sharing to provide access to partners outside your domain or for public datasets.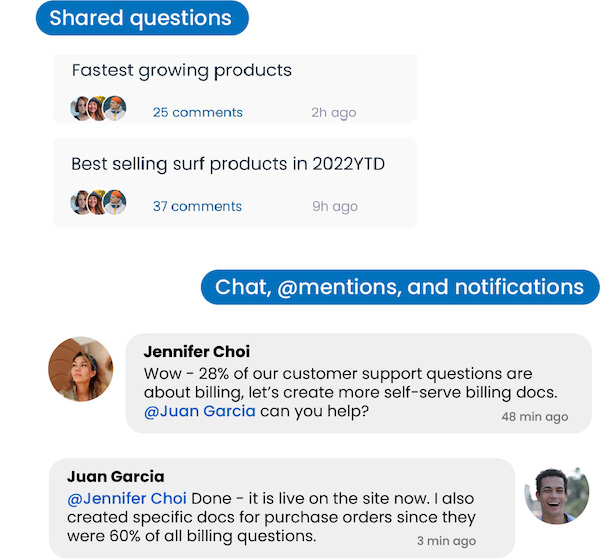 Data from anywhere, available everywhere
Connectors for the most widely used data sources: Postgres, Snowflake, mySQL, BigQuery, Google Sheets, Trino / Starburst, Amazon RDS, comma seperated value files, and Excel.
Zing lets you choose which tables are visible to keep things streamlined.
Multiple data sources seamlessly co-exist with questions and datasources available in a unified view.
View Docs
Visualizations Just Got Smarter
Smart visualizations based on your data types.
Want results fast? Automatic query optimization delivers fast results even on large tables.
Long running query? We'll send you a notification when results are ready.
Need the full data table? Get underlying data in two taps. Even run full on custom SQL a smart typeahead to make quick work of joins, aggregations, and calculated fields.
Need to export? Save down graphs and data tables in seconds.